Marble Countertop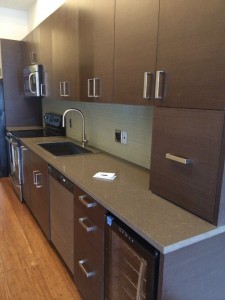 Marble is a rock widely used in buildings, monuments, and sculptures. It consists chiefly of calcite or dolomite, or a combination of these carbonate minerals. This is is a type of metamorphic rock formed from limestone. It is found in many countries, including Belgium, France, Great Britain, Greece, India, Italy, and Spain.
It does not split easily into sheets of equal size and must be mined carefully. The rock may shatter if explosives are used. Blocks of marble are mined with channeling machines, which cut grooves and holes in the rock.
This product has long been highly valued for its beauty, strength, and resistance to fire and erosion. The ancient Greeks used this Stone in many buildings and statues. The Italian artist Michelangelo used it from Carrara, Italy, in a number of sculptures.
Please, Contact our office:
303-287-6928
Fax 303-287-6038
4835 Monaco St. Ste. B
Commerce City, CO 80022
10 years of experience